Colonnes SEC Analytiques, Préparatives
Unix™, Unix™-C, Zenix®/ Zenix®-C, SRT®/ SRT®-C, SRT®-10/ SRT®-10C, et Nanofilm® sont neuf types de colonnes de chromatographie SEC basées sur un revêtement de surface innovant et une technologie de particule uniforme, hydrophilique, et neutre le film d'une épaisseur du nanomètre est greffé chimiquement sur des particules de silice de haute pureté mécaniquement stabilisées de 1.8 µm, 3 µm, 5 µm, ou 10 µm.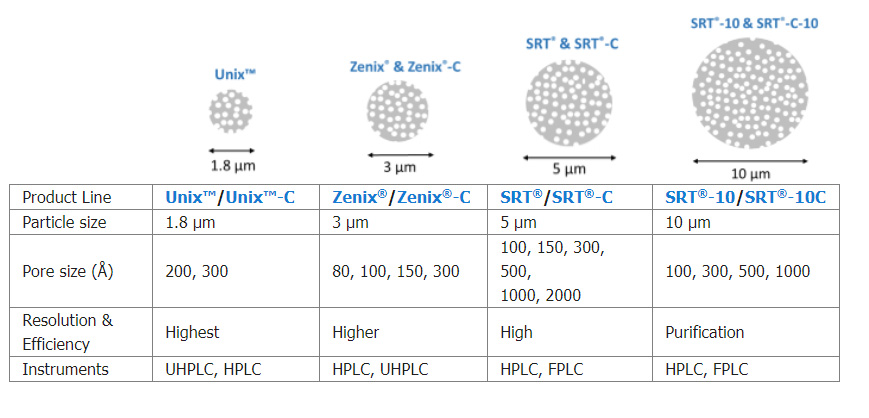 Utilisant deux technologies uniques de revêtement de surface monocouche debout sur silice poreuse pour UNIX ™, Zenix ®, SRT ® et SRT ®-10; et monocouche couchée sur silice poreuse pour UNIX ™-C, Zenix ®-c, SRT ®-C, et SRT ®-10C, Sepax offre des choix de chimie de surface basés sur le type d'échantillon et l'hydrophobicité de l'échantillon afin d'obtenir une séparation performante et de haute résolution.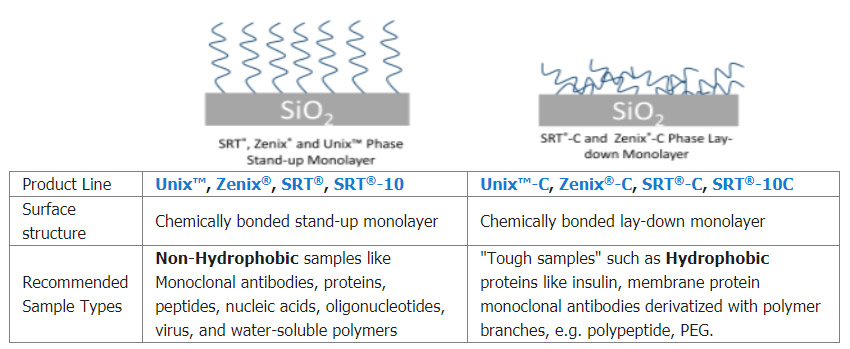 Nanofilm® est constitué d'une phase stationnaire spéciale - un revêtement polymère brossé.
Un tel revêtement polymère hydrophile neutre convient pour les protéines chargées positivement et les protéines hydrophobes, telles que les protéines membranaires.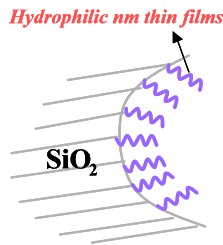 Haute efficacité et résolution

Extrême stabilité en solution à forte concentration en sels

Grande reproductibilité

Séparation de protéines à faible concentration en sels

Taux de récupération des protéines élevé et conservation de l'activité biologique

large gamme de pH applicable 2 - 9

Droite de calibration des protéines avec phases Nanofilm SEC-150, Nanofilm SEC-250, et Nanofilm SEC-500.
Conditions

Colonne:

5 µm, 4.6×300mm

Phase mobile:

Tampon phosphate 150 mM, pH 7.0

Débit:

0.35 mL/min

Température:

Ambiante

Détecteur:

UV 214 nm

Volume d'injection:

5 µL

Échantillons:

1. Thyroglobulin (670 kD)




2. IgG (150 kD)




3. BSA dimer (132 kD)




4. BSA (66 kD)




5. Ovalbumin (44 kD)




6. Myoglobin (17.6 kD)




7. Lysozyme (14.3 kD)




8. B12 (1.35 kD)




9. Uracil (120)
| (Nanofilm Packings | Limite d'exclusion Protéines MW |
| --- | --- |
| Nanofilm SEC-150 | 750,000 |
| Nanofilm SEC-250 | 1,250,000 |
| Nanofilm SEC-500 | 2,500,000 |
Antibody (MAb)
Antibody and Biosimilar
Cell Lysate
DNA/RNA
Fusion Protein
Glycoprotein
Heparin
Membrane Protein
Others
PEG/PEGylated Protein
PEG/PEGylated Protein and Polymer
Peptide
Peptide and Cell Lysate
Polymer
Protein
Protein and PEG/PEGylated Protein
Colonnes SEC UHPLC 1.8 µm
Colonnes SEC HPLC haute résolution
Colonnes SEC Préparatives et Bulk
| | |
| --- | --- |
| P/N | Dimension |
| SECKIT-7830 | 7.8×300mm |
| SECKIT-4630 | 4.6×300mm |
Le kit de sélection de phase SEC comprend nos deux colonnes SEC les plus vendues: une colonne Zenix ™ 300 Â et une colonne Zenix ™ -C 300 Å. Les colonnes Zenix et Zenix-C 300 Å 3 µm combinées offrent deux chimies de revêtement de surface uniques, idéales comme outil de criblage pour les chercheurs de MAb et de Protéines à la recherche de la chimie de revêtement optimisée et spécifique pour chaque échantillon. Le Kit comprend des données de profil de séparation sur divers types d'échantillons tels que MAb, PEG, standards BioRad, etc.
ADC
Antibody (MAb)
Fusion Protein